Harma de Pont (1956) geboren in Winschoten.
Na de middelbare school heb ik in 1979 mijn diploma van de Pedagogische Academie in Den Haag behaald. Vervolgens heb ik op meerdere basisscholen in Den Haag gewerkt. Momenteel geef ik parttime les aan groep 4 op een basisschool in Voorburg.
Voor mijn studie aan de Kunstacademie Haarlem-Leiden heb ik verschillende cursussen gevolgd, waaronder aan de Vrije Academie in Den Haag. Momenteel ben ik lid van de Kunstgroep Wassenaar.
Mijn leven is niet vlekkeloos verlopen. Mijn opa is tijdens een vergeldingsactie in de Tweede Wereldoorlog gefusilleerd. Mijn vader was destijds 18 jaar en enig kind. Zijn moeder is daarna opgenomen in een psychiatrische inrichting. Dit heeft een enorme impact gehad op zijn latere leven, maar ook op mijn jeugd en volwassen leven. Na een burn-out in 2001 heb ik 10 jaar therapie gehad, waarvan 5 jaar bij Stichting 40-45 in Oegstgeest. Tijdens deze periode ben ik serieus begonnen met het maken van kunst, waarin ik mijn gevoelens kan uiten.
Als leerkracht ontmoet ik veel kinderen van ouders die gaan scheiden. Dit raakt mij diep, omdat de prijs die zij betalen groot is. Een treffende uitspraak van een kind heeft mij bijzonder geraakt: "Ik wou dat ik mijn papa in mijn rugzak kon stoppen en mee kon nemen naar het huis van mijn mama, en andersom".
Al mijn levenservaringen zijn terug te zien in mijn werk (www.harmadepont.nl).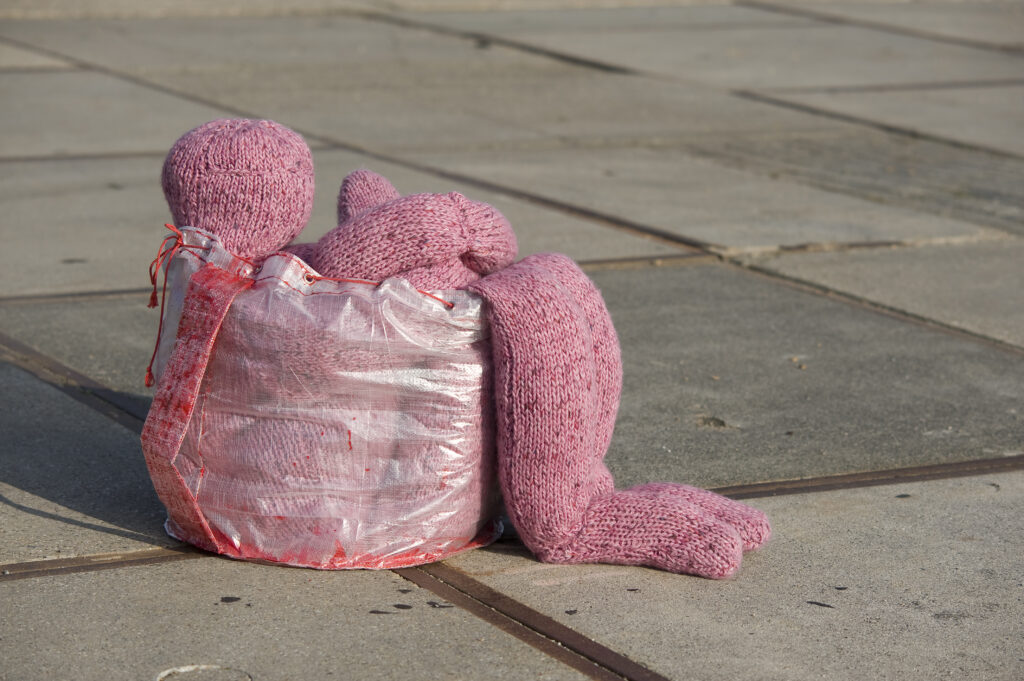 Harma de Pont (1956) born in Winschoten.
After high school, I obtained my diploma from the Pedagogical Academy in The Hague in 1979. I then worked at several primary schools in The Hague. Currently, I teach part-time to group 4 at a primary school in Voorburg. For my studies at the Haarlem-Leiden Art Academy, I took various courses, including at the "Vrije Academie" in The Hague. Currently, I am a member of the "Kunstgroep Wassenaar".
My life has not gone smoothly. My grandfather was executed during a reprisal action in World War II. My father was 18 years old and an only child at the time. His mother was subsequently admitted to a psychiatric institution. This had a huge impact on his later life, but also on my childhood and adult life.
After a burnout in 2001, I had 10 years of therapy, 5 of which were at the Stichting 40-45 in Oegstgeest. During this period, I seriously started making art, in which I can express my feelings.
As a teacher, I meet many children of parents who are getting divorced. This touches me deeply because it is a heavy price to pay. A striking statement by a child has touched me deeply: "I wish I could put my dad in my backpack and take him to my mom's house, and vice versa."
You can see my life experience back in my work.
(www.harmadepont.nl).